9 Powerful Zoom Alternatives For Personal And Business Use
Eventhough Zoom is one of the best platform for video conferncing, many users reporting security breaches in their meetings. If you're looking for Zoom alternatives for your video conferencing needs, let's exlpore them in this article about Zoom Alternatives.
Nord VPN: View plans | Keep your data safe from prying eyes. NordVPN safeguards your connection with next-generation encryption. This VPN doesn't collect or share your data.
The popularity of video calls for personal and business use is still on the rise. Over the last year, millions of people started using Zoom, one of the best video chat apps and video calling software solutions during the covid pandemic. Social distancing regulations have eased in most of the country, as the pandemic winds down.
Still, everyone needs these services as many people are still working remotely from home. And It's still a great way to keep in touch with family and friends.Even though Zoom has lots of great features, it may not be robust for all business operations. It allows only 40 minutes of a free call with its free signup. The free version doesn't use HD video, unlike its competitors. Many users reporting security breaches in their meetings.
There are many other free and paid video conferencing options, and there's bound to be one that suits your needs. It's worth taking a look at alternative video conferencing platforms if you plan to continue using online meetings.
Other video calling services like Microsoft Teams and Google Meet have been adding more features and functionality to keep up with Zoom. If you're looking for Zoom alternatives for your video conferencing needs, here are the top choices.
Zoom Alternatives
Microsoft Teams
Google Meet
Cisco Webex
Skype
Discord
Zoho Meeting
GoTo Meeting
BlueJeans
Jitsi Meet
1. Microsoft Teams (paid and free)
Microsoft teams regarded as the best video conference platform for in-office experience and considered one of the best Zoom alternatives. It combines chat, meetings, file sharing, and business apps. This shared workspace is best suited to a Microsoft-centric environment.
Unlike Google Meet, a Microsoft account is required to join a meeting in Teams. All plans offer video calls with up to 300 members and the top-priced plan lets you host online events with 100,000 people.
Microsoft Teams – Key features
Microsoft Teams comes with standard features like screen sharing and a chat function, customizable backgrounds. It also comes with other useful functions include live captions and shareable recordings.
The paid plans come with security, management, and compliance tools, while the free version has limited functionality. Paid tiers feature audio conferencing, where you can join meetings from a phone. Its paid tier feature's add-on audio conferencing allows you to join meetings from a phone
Visit Microsoft Teams to know more.
2. Google Meet (free and paid)
Google Meet is one of the most widely used Zoom alternatives. Previously Google Meet was only available to paid G-suite customers, later a free tier was added.
Google Meet – Key features
The basic version is free for up to 100 users for a maximum of one hour. Enterprise version allows 250 users with unlimited hours. It allows to record meetings and saves them to Drive. You can invite others to join the meeting by easily sending a meeting link. Guests also can join directly from a Calendar event, email invite, or Gmail.
Google also added features like a grid view, custom backgrounds, screen sharing, and fun filters. It is seamlessly integrated with Gmail and Google Workspace, also optimized for Android and iOS mobile apps. You can start a video call right from the email browser window.
Learn more from Google Meet.
3. Cisco Webex (free and paid)
Webex's free plan is most comprehensive, allowing up to 100 participants per meeting for a maximum of 50 minutes. The paid plan increases the meeting length up to 24 hours and participant allowance increases to 200. It can be increased up to 100,000 participants with the premium plan.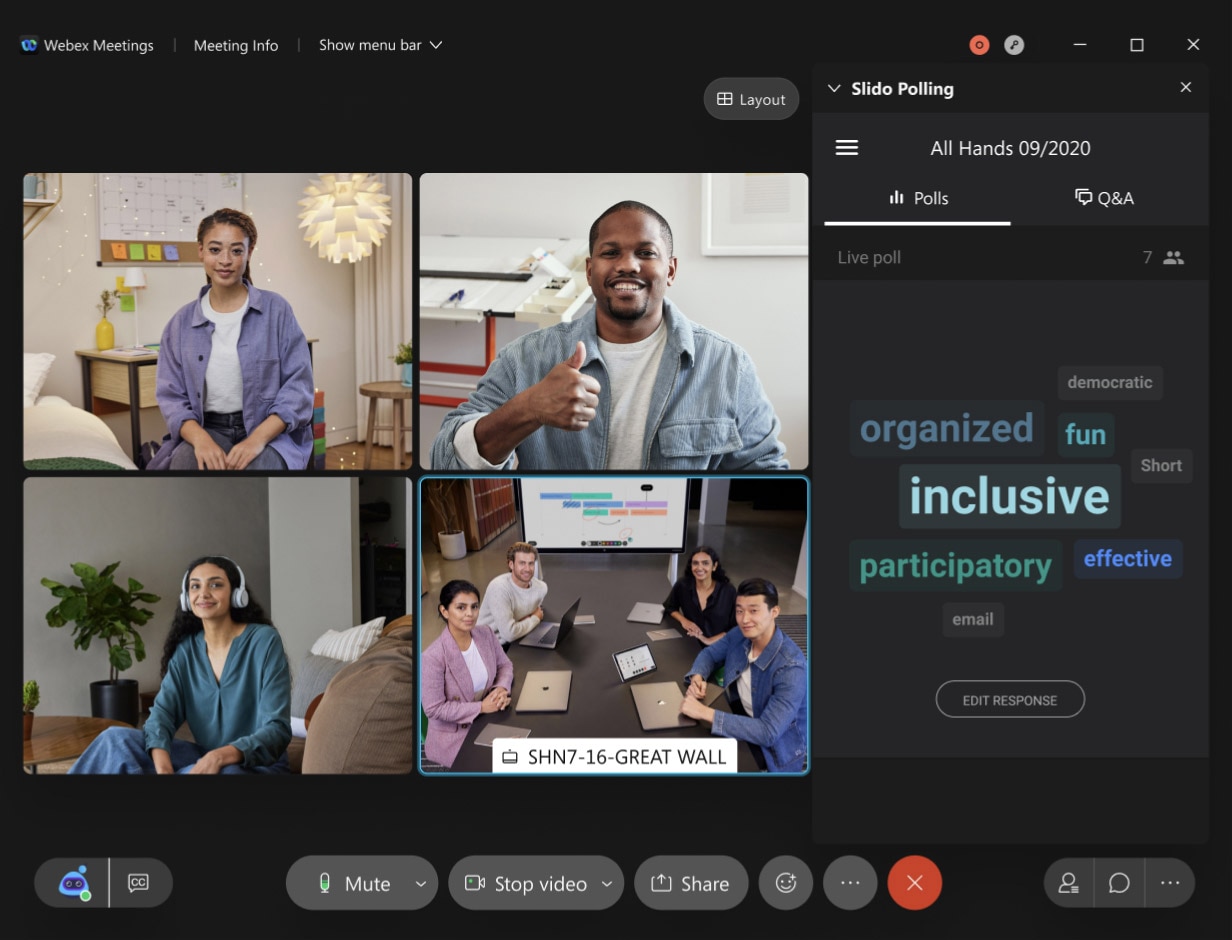 Cisco Webex – Key features

Cisco Webex is best for collaboration. The free tier offering some standard features. However, recording capability and storage, dial-in access, and international call-ins features are available for the paid subscribers only.
All paid-for plans include transcriptions, file transfer, chat, raise hand, and polling features. Webex is very strong on security, offering firewall compatibility, SSO, and secure scheduling options.
The minimalist design can make some user controls tricky to find, and there have been complaints about the slowdown, particularly in screen-share mode. It has mobile apps for both Android and Apple OS and integrates with Google Drive, Microsoft 365, and Salesforce.
Explore Cisco Webex
4. Skype (free)
Skype is well-known and widely used, and its new Skype Meet Now feature is a big challenge to Zoom. It can allow 50 users and users can connect with a link and you don't need an account to sign. Meet Now in Skype allows you to easily collaborate and invite both Skype contacts and others who are not on Skype.
Skype – Key features

It is very easy to use as It's seamlessly integrated into Windows 10. Skype is available on the web, Windows, Mac, iOS, and Android. You don't have to install it you can use it from the website. If an invitee has Skype installed, it will open the app directly to the call; otherwise, it will open the web client
Meet Now offers all basic features like screen sharing, a chat function, and emoji reactions. Skype meetings can be recorded and stored for up to 30 days. You can blur the background but it's not possible to customize it. Skype allows international calls with extra payment.
Visit Skype
5. Discord (free)
Discord is a free and the best Zoom alternative. Popular with gamers but it can be used by anyone looking for encrypted messaging and video calls. Users set up a dedicated "server," which can be organized into rooms (similar to Slack) that host video and text-based chats.
It recently raised the limit for Go Live video calls from 10 users to 50. Discord app is available on most web browsers, as well as Mac, Windows, Linux, iOS, and Android.
Discord – Key features:
With its intuitive design, Discord is easy to use and available on all platforms. Discord offers much-needed service to gamers as it was primarily developed for the gaming community. Discord comes with standard features like screen sharing and video calls.
It is organized in server and channel format. This server structure provides shared space along with a calling feature. You can use it either use it as a messaging app or for discovering content. Discord Nitro a subscribe option for $4.99/m allows you to share server and more game-specific options.
Learn more about Discord
6. Zoho Meeting (paid)
Zoho is an open-source video conferencing service. It allows you to host end-to-end encrypted video meetings and calls for up to 100 people. You don't need to sign up for a login to join the meeting, it can be accessed through a link.
Zoho Meeting offers most of the common meeting tools, like screen sharing, the ability to record calls, and moderation. This app is seamlessly integrated with Zoho's Office suite, And you can easily share documents. The cheapest plan allows for 150 attendees, with the unlimited meeting time. The next tier extends to 250 participants, with 3,000 in the premium tier.
Zoho Meeting – Key features

Zoho is simple to set up and easy for collaboration, with co-hosting capabilities. It also offer an interactive whiteboard and screen sharing. Unlimited cloud recording with transcripts, drawing tools, are available for paid users.
Zoho also offers live-in-meeting notes, as well as polling and "raise a hand" features. It's available on Mac, PC, Android, and iOS devices, also plug-ins are available for Microsoft 365 and Google Calendar. The webinar functionality add-on requires paid subscription.
Explore Zoho
7. GoTo Meeting (paid)
GoToMeeting is one of the first and the best video conferencing services for businesses. It is a feature-packed Zoom alternative. The entry-level plan allows for 150 participants, while the enterprise plan can include up to 3,000.
The ability to record meetings and share your screen are some of the standard tools it offers. You can also have multiple meeting facilitators. It is accessible on web browsers, Mac, PC, Linux, iOS, and Android.
GoTo Meeting – Key features
It offers impressive standard features that make it easier for any business to host collaborative video conferences. There are no time limits on your meetings. You can also set up a dial-in conference line for phone participants.
GoToMeeting allows all users to record the screen. Business subscribers get unlimited cloud storage to store meeting recordings. An automated transcription of meeting audio on request also featured in business subscription.
Participants can join a virual whiteboard and mark up their presentations. It's note-taking feature allows you to type notes directly within the video window. GoToMeeting doesn't currently support in-meeting polls or quizzes like some other providers.
Visit GoToMeeting
8. BlueJeans – Paid
Its team collaboration functionality makes it best suited for small businesses. Meeting highlights and task assignments are some high-end features of BlueJeans. It allows a deep level of control over participants and features.
BlueJeans – Key features

BlueJeans ensures extremely clear audio with its Dolby Voice feature and a safe driving mode for mobile apps. The lower plan allows up to 50 attendees with no time constraints, while the higher tiers allow up to 100 participants.
All the standard functions are available with the cheapest tier. The premium plans come with a variety of add-ons. BlueJeans is available for Windows, Mac, Android, and iOS, and also a Linux variation. The higher tiers offer integration with the likes of Microsoft Teams, Splunk, Gong, and Zoho.
Visit BlueJeans
9. Jitsi Meet – Free
Jitsi Meet is completely free to use, and you don't need to create an account. This will certainly appeal to very small businesses and startups. All meetings have maximum of 50 participants with no option to upgrade, which is a downside.
Jitsi Meet – Key features

Jitsi, a known platform for its security, offers privacy features including control over which devices it can access. The software offers standard features like screen sharing and presentation live streaming. It also features an integrated chat app for groups and individuals within video meetings.
You can also connect your calendar to schedule upcoming ones. and create a user profile, while other handy functions include "pass presenter" and file editing through Etherpad. Users can completely customize their own platform and add various advanced features because it's open-source software. It is available in Android and iPhone OS and add-on integrations with Microsoft 365 and Slack.
Visit Jitsi
Zoom alternatives for business video conferencing
These are the most powerful 9 best zoom alternatives. Don't get misled by popular opinions and do some research and decide which one is most suited to your needs. While selecting the application, make sure it is completely aligned with your requirements.
I recommend Microsoft Teams if you need a tool to collaborate with your team if it is small or large. On the other hand, Google Meet is more suitable for personal video chat. The choice is yours. Let me know which alternative you prefer and why?
Recommended software:
Norton Utilities: Automatically optimizes your PCs processing power, memory and hard drive. Learn more
AVG TuneUp: Speed up, clean up and fix your PC with our advanced PC performance optimizer. Learn more
Recommended VPNs for privacy & security
NordVPN: View plans
PureVPN: View plans
Norton VPN: View plans
Avast VPN: View plans
AVG Secure VPN: View plans
CyberGohst VPN: View plans